【PICK ME EXCLUSIVE】 Leather A5 Planner (4 Colors)
【PICK ME EXCLUSIVE】 Leather A5 Planner (5 Colors)

Measurement

23.3cm(H) x 18cm(L) x 3cm(W)

Weight

0.58kg

Material

Leather Cover + Dowling Paper

Features


Basic Pack Features:
1 x Today's Ruler
1 x Writing Board
1 x Pen Holder Slot
1 x Name Card Slot

4 x Card Slot

1 x Large Pocket Slot

1 x Gel Pen (0.5mm – Black)

2 x Random Inserts

Choose Refillable Inserts:


6 Binder Refillable Inserts design:

HERE




Colours

Dark Red, Light Grey, Coffee Brown, Army Green,

Black

Remark:

This price is inclusive of stated Planner Basic Pack features only. You may choose and add on refillable inserts and accessories

HERE

.

Please note that the colour of product image as seen on the site may slightly differ from the actual product due to the calibration differences between computer monitors and tablet, etc.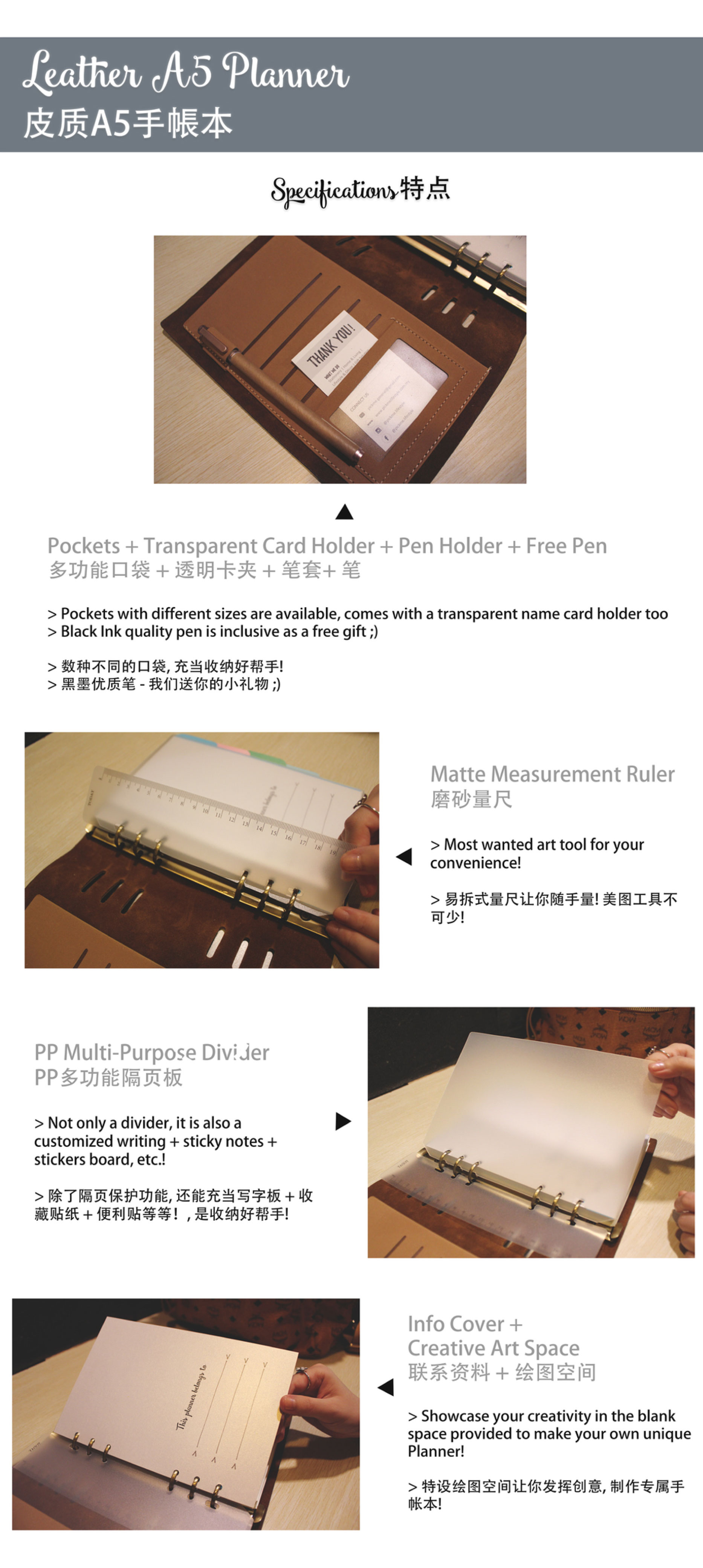 We accept individual, bulk and corporate orders!
For Bulk Order / Gift Sets Customization / Gifts Solution / Packaging:-
#PickMeLifestyle #Stationery #lifestyle #doublyenterprise #doubly
#GiftSolution #GiftSet #GiftsIdea #CorporateGift
#PremiumKit #PlannetKit #Customization #CustomMade
#StationeryAddict #PlannerAddict #Planner #PlannerTools
#选我文具生活馆 #送礼专案 #选我 #手帐 #文具
#客制送礼 #个人与商务皆可 #零售与批发